Do you have a dream or ambition that you've almost forgotten about? This time on the Penny Haslam Podcast, I discuss why it's important to find the confidence to dust off your old dreams.
What was that dream you've packed away?
Today in the podcast, what was your old dream that you've packed away? Go on, get the loft ladder out. Go on, dust it off and let's have a look at it.
I had a good thought on something this week, I was running a workshop on Zoom (Penny Haslam's Confidence Workshop) with a group of nine staff members. One of the exercises was to think about something that you perhaps dreamt of doing, or had in your mind is something that you wanted to achieve at some point.

The Impact, Influence and Confidence Programme
The older we get, the less loud our old dreams become
Now, often those dreams, I suppose you could call them are there from early days. But the older we get, the less loud they are in our brains.
So, one thing I used to really want to do, and in fact, I started writing some comedy when I was about 15. It wasn't very good obviously, that's fine. I was just starting, and I wanted to be a stand up comic.
I had grown up watching French and Saunders, Victoria Wood, excellent women, which was a rarity. So it was the alternative comedy scene (in the 1980s) and finally, we saw some funny women, not just the old Saturday night entertainers on television.
So, I wanted to do stand up comedy. I had dreams of that when I was about 15. And then you know:
"What you want to do with your life, Penny?"
"I don't know. Go to university, right?"
Yeah. OK, so I go to university. Then:
"What you wanna do with your life?"
"I don't know."
I couldn't admit to it. I couldn't begin. I didn't get started. So I stuffed (my dream) into the back of my brain and hoped that it would go away as a thing.
I rekindled at 15 year old ambition
It was probably 15 years later, in my late twenties when I saw an evening class (for comedy) and I thought, you know what? I'm gonna go do that!
But, I thought I won't do it as a comic. I'll do it as a writer maybe, not a performer. No, no, no, nothing to do with performing. That's not me. I'd really got myself into this kind of box of "you don't do that anymore! "
But I used to perform all the time. I used to be in plays and shows as part of a youth group and I loved it. I loved the production of it. I love the team. I shouldn't have dusted it off a packed it away.
So, I went along to this evening class with about 25 other strange people assembled on this wonderful teacher called Jill Edwards, who basically got us all standing up in front of the room and having a go at making the room laugh, which is horrendously nerve-racking.
And if you go along thinking I'm just gonna take a seat at the back and learn a little bit about comedy writing, because it might be useful closely. I was kidding myself, wasn't I? There I was, I think she had brought along a wooden spoon to pretend to be a microphone. It was that kind of just stand up and see how it feels for goodness the sake. You're not gonna die! Obviously, you think you are and no one's going to mind.
She did this brilliant thing about feedback. She said feedback has to be constructive. So, what did we like? What could we do more off? What could we do less of?
I got up and I must have made the room laugh a bit, and I felt quite good about it. And I sat down and thought, Oh my God, there's no running away from this. I'm gonna have to do stand up, aren't I?
Speaking on stage - My destiny calling
This is my destiny calling. It's my DNA I need to be on a stage with a microphone, chatting. So I did. I think it was a 12-week course. 12 weeks later I found myself doing my first ever stand up routine. So, yeah, that's where I found my feet as a performer, as an entertainer, as somebody whose calling was to communicate.
The point off talking about my dream to be a stand-up comic which I didn't fulfil, by the way. But I did find "my funny" in other ways and that bit of me is satisfied.
The point is that one of the participants on the workshop (this week) dusted off his old dream, and he shared it with the group and this was the magical bit of it!
You can have these old dreams, and it's just a little bit difficult to talk about them when it's when they're 20 years old.
You know, 20 years later, you still got a dream to be a writer, a singer, a poet and ice skater, a performer. But yes, sharing them 20 years past their sell-by date or seeming sell-by date, can be embarrassing.
It's like admitting a failure in a way. Anyway, let's get back to this gentleman on the course. This young fella in his late twenties shared with the group. His idea, he says.
"I've always wanted to be a sports commentator during a live match of anything. Cricket, football, rugby, whatever up in the media box, looking at the match, commentating on it."
Wow, his job at the moment is nothing like that. Um, so wow, that was great. And people were really positive about it and didn't just go.
"No, you're never going to do that because the broadcasters will never pick you up because you're not a sports journalist. Because because Because No, no, no."
None of that. They sat around and went right.
"Well, Do you know what? Why don't you start a podcast? Why didn't you go on other people's podcasts? Why don't you do a YouTube channel? Why don't you do this? That and the other. Why don't you practise? Why don't you record yourself? See how fluent you could become? Listen all the time to other sports commentators. What do you like what you don't like? Write, blog about it."
I mean, all of that is prompting gorgeous, easy to achieve. You know, it's within reach to duel that action which can make you feel bolder, which can make you feel more confident.
What I'm saying is dust off your old dreams. Take a look at it. That comedy stuff never went away for me, and it kept prodding me and prodding me and prodding me.
And now when I do my motivational talking on stages or on Zoom, I put in as much humour as I can. Not jokes, but just funny comments.
I think it's so valuable to hold onto our dreams but to take supported and inspired action around them. Don't be like me, like 30 years later, finally getting some, getting some funny stories into some talks on stages.
But nonetheless, here I am, able to be quite funny. Able to enjoy the sensation of it on. I hope he will go on to do something as well.
What was your old dream that you've packed away? Go on, get the loft bladder out. Go on, get out! Dust it off. Let's have a look at it.
MD and Founder - Bit Famous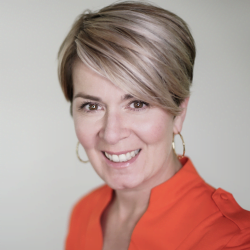 Confidence Book - Free Resources
Penny's new book is coming in 2024
Confidence Book
Get updates - WIN a copy!
Confident individuals build confident teams!