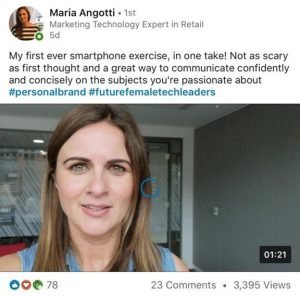 Last week I ran my one-day 'Make Yourself a Little Bit Famous at Work' workshop, at a big company.
I set up a choice of activities in the afternoon, you could take part in a panel discussion, deliver a short talk or make a video on your smartphone. The idea is that you challenge yourself to do something new, which you've not yet tried.
One of the delegates, who plumped for the video option, is a marketing technology expert in retail and knows all about projects and delivery. So, my pick of the week is her gumption for having a go, and her video, which got huge engagement on LinkedIn, with proper discursive comments and around 3.5K views within a couple of days. Not bad for a newbie!
Smartphone Video Masterclass
If you want a piece of the action when it comes to recording on your phone – that are time efficient to create and effective when you share them – then you should come along to my next course dedicated entirely to learning how to not look, sound, or feel like an idiot, on video.
Find out more at www.bitfamous.co.uk