Panel discussion script example
About the author
Penny is an award-winning motivational speaker & event host.
She's the author of Panel Discussions - The Ultimate Guide
MD and Founder - Bit Famous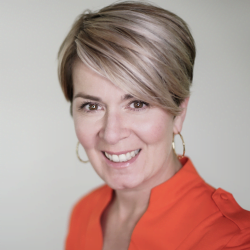 This is a panel discussion script example. In this section of my guide I've included a real life example of a script I used as a panel discussion host. It's from an event I chaired at the Stockport Chamber of commerce in the UK.
As you can see from the event timetable, time was tight, just 40 minutes so I've included timings to illustrate how I kept it moving. The theme of the event was borrowing and investing.
The event timetable:
7.15am - Registration & Networking
7.40am - Welcome
7.50am – Breakfast – Round Table networking
8.20am - Panel Discussion on SME funding and finance - hosted by Penny Haslam.
9.00am -5 x 60 second pitches – GM Chamber Updates
9.15am - Networking & Close
FREE Download - Panel Discussion script template
Panel discussion script template. If you're hosting a panel discussion get my FREE template which will help you script and plan your event.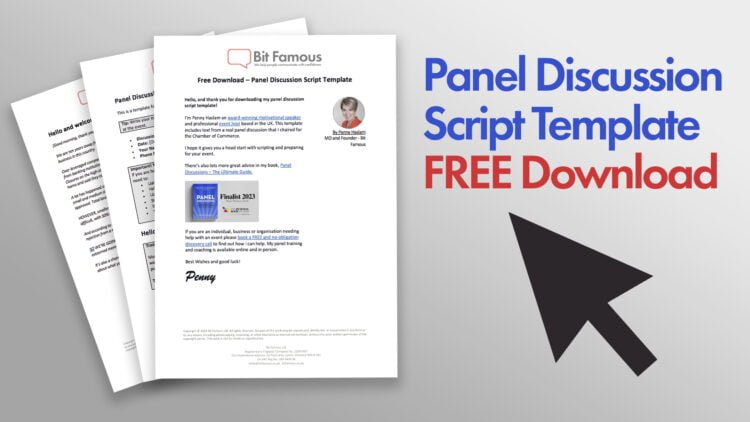 8.20am Panel discussion - moderators script example
Good morning, thank you to Tony etc..
We are ten years away from the credit crunch that tore up the rulebook for lending and investing in business in this country.
Over-leveraged companies who'd become over reliant on Venture Capitalists, and cheap money from banking institutions - who'd grown and expanded too quickly for comfort were found wanting. Closures on the high street were commonplace, and then everyone who was a lender took their ball home and said they couldn't play anymore….
A lot has happened since then and TODAY the British Banking Association estimates that 80% of small and medium sized businesses applications for finance in the last quarter of last year were approved. Total lending to SMEs stands at around £110 billion pounds.
HOWEVER, smaller businesses, those with fewer than 50 employees, are still finding borrowing difficult, with 50% of applications from companies younger than five years being rejected.
And according to the Chamber many companies don't really know where to turn if they receive a rejection from a main high-street bank….
SO WE'RE GOING TO DISCUSS all that as well as the why, where, what and how to – are four esteemed members of the banking and finance sector…
It's also a chance to ask your questions, or put your points to the panel in a while, so do get thinking about what your business needs to know…
08.21am Introduce the panellists - moderators script example
Joining us today are:
A man who leads the Debt Advisory team at Duff & Phelps that helps businesses refinance, restructure or renegotiate their debt. The team works with over 400 businesses a year across all sectors and typically in the £1M to £5M space.
Prior to joining D&P in 2010, he worked in corporate banking for 25 years from the age of 11 (that's what it says here anyway!)… please welcome Paul Smith.
Question to Paul: Re-structuring debt is your specialty, have things settled down now, 10 years after the credit crunch?"
And we're also joined by a NatWest Director in Commercial Banking...
Having spent the past 29 years in banking, with a number of years' experience as a frontline relationship manager lending to SME's, Andrea Kelly now leads a team of 10 NatWest managers and their dedicated support staff. They work with SME customers across the Greater Manchester region offering a range of accredited sector specialists: her team focus on helping people achieve both their business and personal ambitions, for example by facilitating growth, suggesting ways to increase efficiency and / or mitigating/reducing risk within the business.
Question to Andrea: You work with mid-tier businesses, what sorts of things do they want to raise money for at the moment?
Rachel Craft, from Regency Factors is here, she works with small to mid-sized businesses, helping their cash flow with invoice factoring.
Question to Rachel: It's simple isn't it Rachel, just explain what invoice factoring involves?
Adam Gillet, is the senior Equity Fundraising Manager at CrowdCube – which as the name suggests is a crowdfunding business.
Question to Adam: Can you give us the definitive answer on this, what is crowdfunding?
08.25am Example questions for discussion
What situations cause firms to find additional money? What are they borrowing/seeking VC/crowd funding for? Trends at the moment?
What's available to businesses? Traditional borrowing, how it's transformed over last 10 years.
When should a business owner think about seeking finance?
DON'T FORGET THERE WILL BE A CHANCE FOR YOU TO ASK QUESTIONS IN A SHORT WHILE
When should businesses definitely NOT borrow!?
Barriers to entry? Current economic climate/confidence in future?
Perceptions of finance - are they usually wrong/right?
Research from the British Business Bank suggests that equity funds are focused heavily on London & SE, with 71% of investments going there. Do northern businesses have to head to London to get in front of investors?
Start up/Scale ups - when's the right time?
(Don't want to but should cover it off although as briefly as possible) Brexit impact - risk averse, big capital expenditure down?
Final question to you all – what's the climate like right now for businesses in the room who are thinking about borrowing, favourable?
08.50am Audience questions
Wrap up. Many thanks to:
Adam Gillet, Andrea Kelly, Rachel Craft, Paul Smith
09.00 am - End
Need more panel discussion script advice? We wrote the book!
Panel discussion script template
This is a template for a 35 minute panel discussion + 10 minutes of audience questions.
Tip: Write your name and phone number on the top of your script in case you misplace it at the event.
Tips: Your panel discussion script preparation
If you are hosting a panel discussion you should prepare a script before the day. You will need to:
Liaise with the event organiser
Help decide themes and areas for discussion
Liaise with the panellists
Structure and script the whole thing
Work out timings
Think up great questions
Start time: 00:00 - Hello and welcome
Introduce yourself, build rapport with the audience, and explain why you are excited to hear from the panel.
Introduce the themes and topics, why these are important and what the audience has to gain by discussing them.
Briefly discuss your own experience that is relevant to the topic.
Any housekeeping such as fire alarms and directions to the loo.
Timings: Your panel discussion script introduction
Most people read at 3 words per second. In my example above the introduction is 230 words and takes 1min 16sec to read. This is an ideal length, keep your introduction punchy, brief and to the point.
To calculate your timings: Word count / 3 = Total duration in seconds.
Time: 00:05 (or sooner) -
Introduce the Panellists x 3
Keep it concise. Email each panellist in advance and ask them to write a brief introduction. See my tutorial: How to introduce panellists
Tip: Consider asking a quick warm-up question for each panellist during the intro's. Ask them to prepare a snappy answer in advance.
Caution: Don't script panellists introductions from their LinkedIn profiles
Don't copy and paste people's intros from an online biog, these tend to be:
Too long
Written to be read, not spoken
Include irrelevant detail like their passion for paddle boarding
Email the panellists well in advance and ask for a brief introduction. See: Prepare for a panel discussion: Moderator's email to panellists
Time: 00:10 - Topic area 1 (10 mins)
Choose two main topics and a third short one.
Tip: Don't forget to signpost as you move between topics e.g. "That's (topic 1) covered, let's move onto the next part of our discussion..."
Time: 00:20 - Topic area 2 (10 mins)
Tips: Scripting panel discussion questions
Avoid turning the panel discussion into a series of one-on-one interviews. It's a discussion, get everyone involved
Feel free to jump in with unscripted questions rather than looking down at your notes
Don't just ask a question and move on, listen to the answer, does it prompt another question or an opportunity to bring in another panellist
Time: 00:30 - Topic area 3 (5 mins)
Time: 00: 35 - Audience Q&A
Tip: Audiences can sometimes be a little reticent until the questions start to flow. Consider planting a first question with the organiser to get the ball rolling.
As you start to wrap up consider asking for "a final word" on the topic or ask each of your panellists to summarise their key idea.
E.g. "What are the main points you'd like the audience to take home with them today?"
Include notes and announcements, What's coming up next, thank the audience for attending and their questions.
Tip: It's a good idea to script your final words. If you sometimes struggle to remember, write the panellists' names at the end of your script so you can thank them without stumbling.